Radicalization is a multi-stage process which begins with the polarization of society into antagonistic identity-based groupings: "us" and "others". Over time, that may develop into hatred, and then the incitement to and the perpetration of extreme acts and crimes.
An early-stage intervention seeking to address this process before it becomes fully-developed, may avert tragedies. The impacts of the global economic and financial crisis and the migration and refugee crisis of 2015have strengthened the trends towards polarization of societies and increased the number of socially marginalized people who have become more vulnerable to radicalization and recruitment by extreme groups. The challenges require a multi-agent approach and preventive activities focused on the marginalized groups including criminals and prisoners.
The objective of the conference is to provide space for scholars and practitioners to share best practices relating to polarization and radicalization in Europe and pooling national resources. The conference aims to also present some international experience and fight against extremism in the European prison and probation systems. The event will allow for presenting the outcome of a one- year project aimed at improvement of capacities of staffs in the Hungarian prison and probation system in the field of radicalization.
The conference is considered as a follow up of the conference held in the National University of Public Service in June 2016 which set the issues of preventing violent radicalization and multi- agency approach on its agenda. The event will raise the awareness of the participants, including representatives of the security sector in Hungary over the challenges of polarization and radicalization and promote the establishment a network of Hungarian governmental and local authorities willing to pool their capabilities for preventing extremism. The conference will contribute to the exchange of views between Hungarian and international experts, their cooperation and identification of new tools for preventing radicalization in Europe.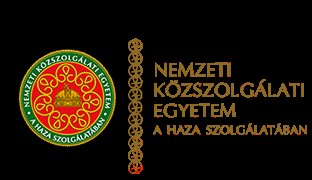 PREVENTING RADICALIZATION IN PRACTICE
Workshop
26 June 2018
Venue: University of National Public Service Bolyai terem
Budapest, Hungária körút 9-11.
PROGRAMME
08.30 – 09.00
Registration09.00 – 09.30 Welcome Speeches
Dr. Ferenc Kaiser, Head of Military National Security Department, Institute of National Security, National University of Public Service, Hungary
Representative of the Hungarian Prison Service (TBC)
Enikő Csontos, Head of Political Section, Delegation of the European Union in Hungary
09.30 – 10.00 Keynote speech
"Countering Polarization to Prevent Radicalization"
Sergej Augustin Erdelja, Radicalization Awareness Network
10.00 – 11.30 Panel Discussion
"Tools for Preventing Radicalization"
Participants:
"Terrorism motivated by Islam in Europe"
Dr. Péter Tálas, Director, Center for Strategic and Defense Studies, University of Public Service
"Best Practices in Multi-Agency Approach"
Sergej Augustin Ardelja, Leader of RAN Working Group
"Challenges of Education Programmes in High Schools to Countering Antisemitism and Anti-Roma Sentiments in Hungary"
Anna Kalmár, Tom Lantos Institute, Hungary
"New Tools for Preventing Polarization"
Dr. György Tatár, Chair of the Budapest Centre for Mass Atrocities Prevention
11.30 – 11.45 Coffee Break11.45 – 13.00 Panel Discussion
"Practices of Preventing Extremism in Prison and Probation Systems"
Participants:
Main Findings of the Capacitybuilding Project "Prevention of Radicalization in the Hungarian Prison System"
Gábor Héra, sociologist
"Drug Trade and Radicalization in Prison Settings of Denmark, Hungary and USA "
Gergely Fliegauf, Office of the Commissioner for Fundamental Rights, Hungary
"Responses to Radicalization in Prison System of Sweden "
Robert Örell, Head of RAN Exit Working Group
13.00 – 13.10 Conclusions
Dr. György Tatár, Chair of the Budapest Centre for Mass Atrocities Prevention
13.10 – 14.00 Refreshments
The working language of the conference is English.
Please send registrations by 23 June, 2018
via this link
.