The Budapest Centre for Mass Atrocities Prevention and the National University of Public Service codially invites you to the following:
Roundtable discussion
"Training for prison personnel in the field of preventing radicalization"
November 8, 2017
9:00-13:00
National University of Public Service, Faculty of Military Sciences and Officer Training, Zrínyi Room
9-11. Hungária krt,. 1101 Budapest, Hungary
The event is public, but registration is required.
Please, register here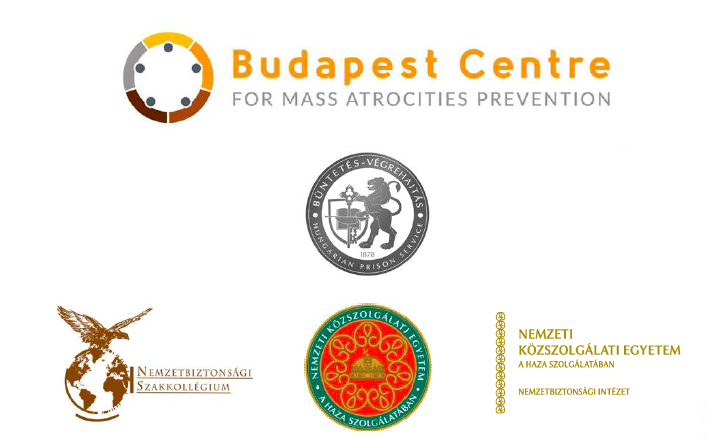 "Prevention of radicalization in the prison-system" is a 13-month initiative of the Foundation for the International Prevention of Genocide and Mass Atrocities in collaboration with Hungarian experts and researchers. Funded by the Internal Security Fund of the European Union, it aims at contributing to the coordination and improvement of national and international capabilities for preventing and countering radicalization. To that end, it maps the capabilities of Hungarian prisons to recognize signs of radicalization, as well as to manage and prevent processes leading to radicalization. It provides trainings for prison personnel to further improve such capabilities and conducts so-called "life-path" interviews with prisoners to facilitate their rehabilitation and reintegration. The results of the project and its policy recommendations will be summarized in a report in Hungarian and English and presented at a conference in spring, 2018.


At the current event, the Budapest Centre for Mass Atrocities Prevention, as the operative body of the Foundation, aims ot provide a forum for practicioners and researchers to discuss the experiences of focus-group interviews conducted with prison personnel that have mapped local partuicularities and needs of Hungarian prisons. Furthermore, it wishes to make recommendations to further improve the content of trainings to be provided for prison personnel within the framework of this project. The experiences of focus-group interviews and the roundtable discussion will be summarized in a study in Hungarian that will be shared with the Hungarian prisons and a wider auidience.