The Budapest Centre for Mass Atrocities Prevention and the Hungarian Embassy to Ethiopia have the pleasure to invite you or your representative to the launch event of the
African Task Force
Report:
African Regional Communities and the Prevention of Mass Atrocities
The event will be held on
Tuesday, 11 October from 10:00 a.m. to 2:00 p.m.
at the
Intercontinental Addis Hotel
Addis Ababa – Ethiopia
The event is public but registration is required (in order to register send a mail to africantaskforce[@]budapestcentre.eu)
Download the
programme of the event

The International Community recognizes the growing significance of regional and sub-regional organizations in addressing issues and challenges of individual states. The inherent link between political stability and economic growth, and the great impact peace and stability have on economies and development is a fundamental tenet for regional development in Africa, particularly within countries with histories of conflict and political instability. Conducting a thorough review of the capacities and capabilities as well as the needs of African key regional and sub-regional organizations can contribute to shaping the agenda for their enhancement, encouraging new discussions on needs relating to security, development and human rights.
Guided by the abovementioned ideas and following the successful experience of the
2013 EU Task Force
, the Budapest Centre for Mass Atrocities Prevention, with the support of Humanity United, established the African Task Force on the Prevention of Mass Atrocities (ATF) comprised of
prominent African researchers
and launched the Initiative in Addis Ababa in March 2015.
The main objectives of the Initiative:
Conduct a review of capacities, capabilities and needs of regional institutions in Africa (AU, ECOWAS, IGAD, SADC and ICGLR) to prevent mass atrocities including war crimes, crimes against humanity, genocide and ethnic cleansing;
Synthesize lessons from the continental and global 'state of art' to strengthen African technical and operational capacity in early warning and response (EWR);
Improve the regional institution's capacity and willingness to address political instability and prevent mass atrocities more effectively;
Enhance national and local capacities in Africa and step up the interaction with international actors and donors to prevent mass atrocities;Promote dialogue as a tool for mass atrocities prevention among members of regional and sub- regional organizations and at national and community levels;
Raise awareness and translate general commitment of African States to atrocity prevention into practice by making prevention of mass atrocity crimes a priority of their policies.
The results of the ATF activities and the Initiative have been described in the Report "African Regional Communities and the Prevention of Mass Atrocities".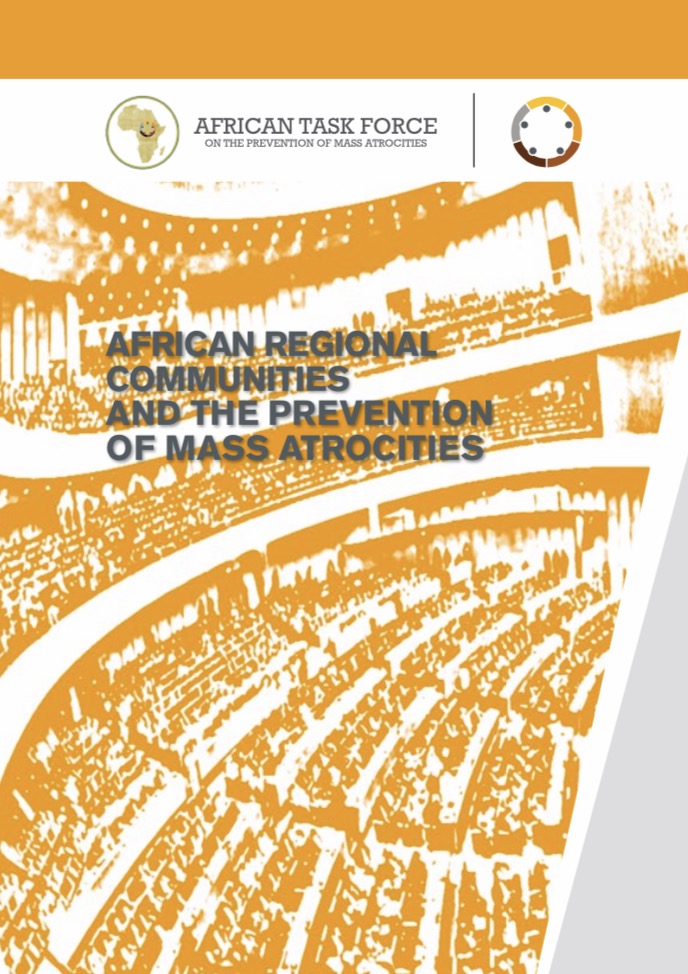 The document provides a detailed overview of what has been accomplished in Africa at the regional level, and what challenges remain in advancing a robust mass atrocities prevention agenda.