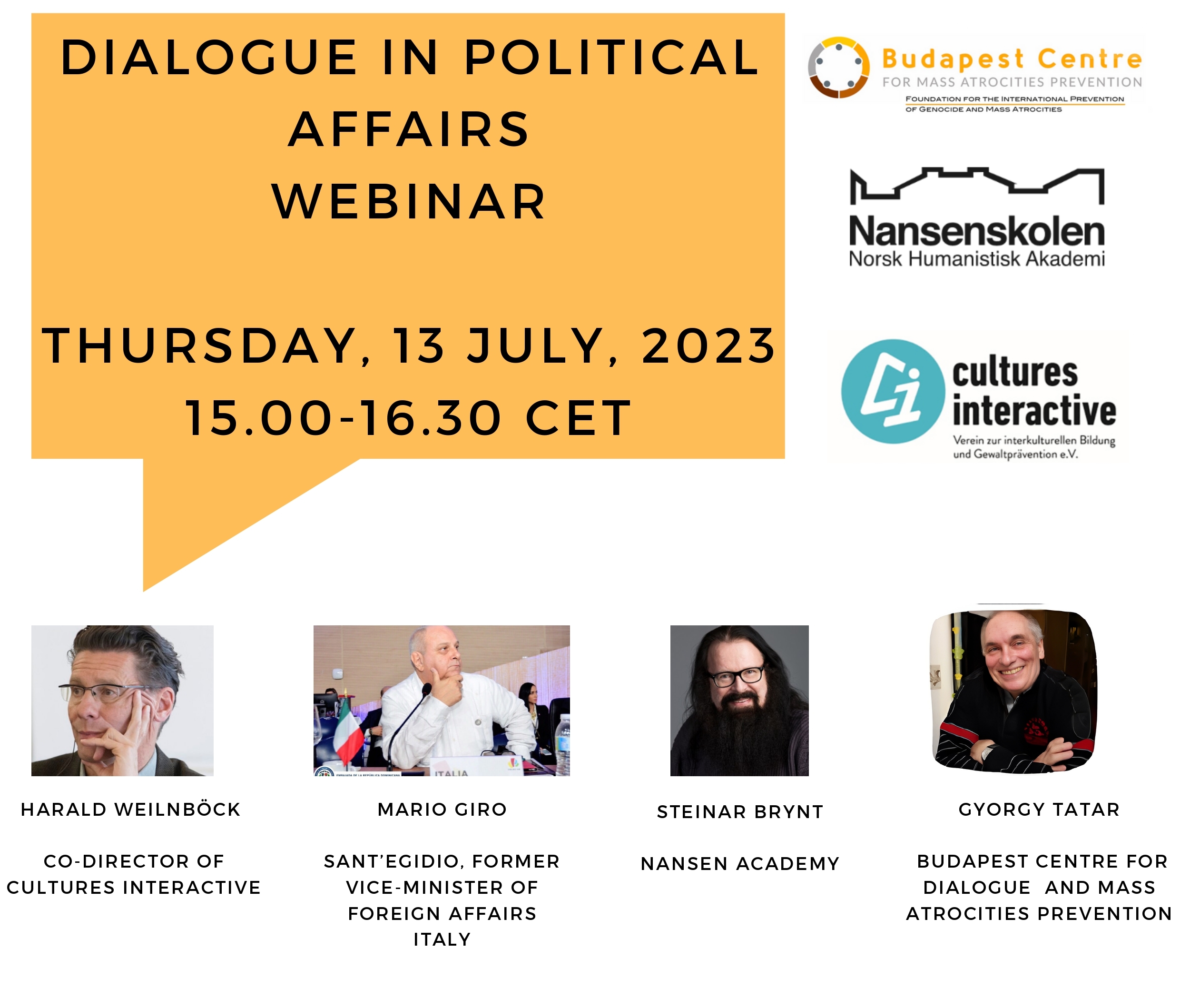 In his introductory intervention Mr Harald Weilnböck (Cultures Interactive, 6:58 - 25:05) argues for the need to replace the concept of extremism and term of prevention in favour of dialogue, education and skill building. He explained while dialogue builds bridges and connections, extremism and prevention tend inspire a habitus of intercepting, fighting and countering, while looking for dangers and enemies, hence tends to break off potential bridges and connections. It often even generates discrimination. Mr. Weilnböck points out we need a change of paradigm in order to better support democracy. Furthermore, Mr. Weilnböck shortly argued for the alternative concept of Group focused enmity/hatred, and Authorianism used in Germany and shared some good practice standards.


Mr. Mario Giro (29:04 - 45:45) calling himself as non-institutional mediator gave an overview of his peace making activities. He explained through concrete cases the difficulties and weaknesses of track 1.0 and track 2.0 diplomacy, argued for the combination of the state-guaranteed diplomacy and the flexible peace initiatives of the civil societies and spoke about the dilemmas of track 1.5 diplomacy where he was involved through Sant'Egidio Community. By referring to various conflict situations, he questioned the concept of ''war as a solution for conflicts'' and shared some lessons learned during his activities whilst highlighted the differences between peace agreeements and societal reconciliation.

Mr. Steinar Brynt (48:45 - 1:13:10) spoke about the dilemmas and similarities of the war of thenineties in Western Balkans and the war between Russia and Ukraine since 2014. He pointed to the fact that through the intensification of the conflict situation between the two countries dialogue became increasingly difficult and ultimately stopped. He touched upon issues of nation states, revival of traditionalism, possibilities and limitations of dialogue, the relationship building methodology, why we do not embrace dialogue, can dialogue be counterproductive under conflict and the need for finding a common language with those representing other concepts.


Mr. Gyorgy Tatar (1:35:05 - 1:48:35) highlighted the background and main objectives of the draft Statement circulated prior to the webinar. He initiated the establishment of an international Alliance of Dialogue for institutionalization of the tool of dialogue in international and national decision- making processes and inclusion of dialogue-related issues in the national educational curricula as well as the enhancement of collaboration of dialogue practitioners. Mr. Tatar invited the participants to give feedback on the initiative in the next few weeks.